Impact develops leaders through mentorship, community engagement, and personal growth.
IMPACT Leadership Development
What?
A six-session leadership development program.
Who?
IMPACT is for members of the Hill City and Custer Area communities that are emerging leaders, new community members, or anyone striving to increase their leadership skills.
When?
Every Thursday from 4:00-8:00. October 5th through November 9th, 2023.
Where?
Meetings will be held at Crazy Horse Memorial and local businesses as available.
Cost?
$300 (Scholarships available).
IMPACT is a collaboration between: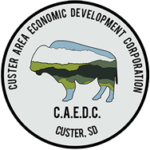 The Impact Leadership Development Program has been established to encourage and equip the present and future leaders of our communities. This program accomplishes this mission through the following means:
Familiarization and awareness education in the various areas that make up our communities.
Local Education and Local Government
Larger Community Employers in Communities
Non-Profits, Community Resources, and Arts Council
Community/Economic Development Day
Presentations on a variety of Leadership Improvement
The opportunity to participate in a personal mentorship program.
The opportunity to participate in a self-directed leadership development program.